Posted by Alexandra Cappetta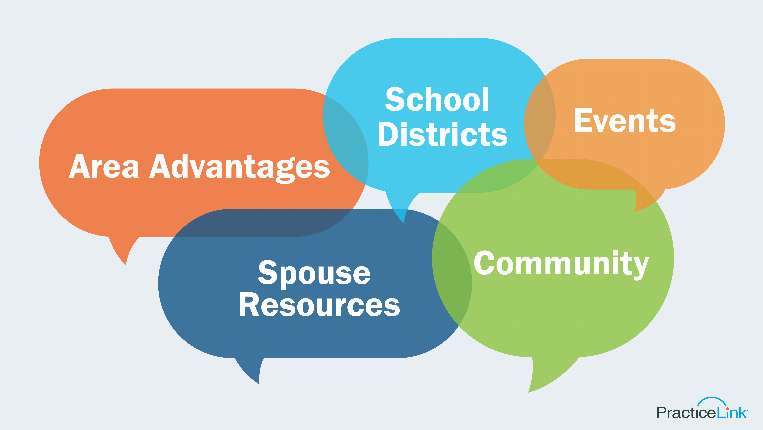 Physician recruiters are subject matter experts in many things: the health care industry, talent acquisition, communication strategies - the list could go on.
You know how to draw candidates to your organization, but if the end goal is to keep them there and help them envision a lasting fit in your community, then there may be another area of expertise you can nurture.
Know the ins and outs of your community
Just like in sales: The better you know your product, the better you can sell it. When you're "selling" an opportunity to candidates, a large piece is marketing your community.
Job-seeking candidates may be initially drawn to details like a facility's amenities, training programs offered, student loan repayment assistance or even the salary. However, location is one of the most compelling reasons for job seekers to select one opportunity over another. Aspects of an organization can evolve and change, but a location and its community are more enduring.
With that in mind, the more you become an expert on your health system's surrounding area, the better you can promote its most attractive features to your prospects.
Start by asking yourself these questions:
What are the people in the area like - or how would I describe the culture?

What is the city or area most known for?

What generally brings people to the area to live or visit?

Roughly, what is the size/population of the town or city? And what is the size/population of the metropolitan statistical area?

How do people in the area generally spend time off, or what do they do for fun?

What nearby attractions or sights are there to explore?

Has the town or community received any awards or titles?

What are some details unique to the community that could not be found elsewhere?

Why do I appreciate living in the town or city? (A brief personal anecdote can be effective here.)
Offer helpful launch points
As you get to know your candidate better, it will become easier to identify which aspects of your community will be most appealing to them. If you know they would be relocating with family, make a point to share details that would interest them like:
best school districts or day care facilities in the area.

opportunities or resources for their spouse to seek employment.

the most family-friendly neighborhoods or areas to live.

community events, festivals, fairs or celebrations to anticipate.
Share advantages of your area
Whatever the geographic location of your community - urban, rural or somewhere in between - share the benefits of living in that setting.
If your organization is in a city, point out inviting features such as:
the energy and culture of big city life.

exciting venues, restaurants and attractions.

benefits of a wide and diverse range of individuals and interests.

the convenience of proximity to most everything in the area.
If your organization is located in a rural community, share attractive aspects like:
the close-knit feel of a small town.

go-to spots for locals to hang out and unwind, attractions or other sights.

benefits of knowing the members of your community more personally.

advantages of being more removed from the fast-paced city environment.
Conduct ongoing research
If you haven't already made it a habit, perform consistent Google searches on your city or town and see what both locals and visitors are saying. You can also look into your area's history for a little background and to learn more about the culture.
Take note of the general population, demographic and even hidden gems you may not have come across before. Doing your research shows candidates you have a good sense of your community - and if there are things you enjoy about living there, it's likely they will, too.
We're here to help! If you have questions about how to be a better recruiter or want to discuss strategies for learning and sharing the best of your community, contact us at ProTeam@PracticeLink.com.