Posted by Alexandra Cappetta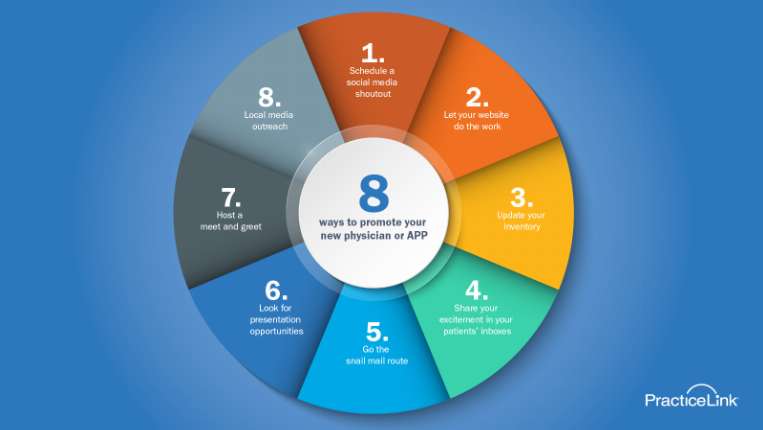 New physician or advanced practice provider hires can bring many things to your facility. More variety to the culture, valuable skillsets and even new patients.
But, for them to help your health system, you'll need to find ways to promote and support them.
Here are eight approaches you can take to start elevating your physicians and APPs, welcome them to your community and encourage your community to welcome them in return.
Schedule a social media shoutout
Any addition to your team is something to celebrate. Social media is a great place to introduce your new hire, share a bit about their experience and bring awareness to your growing assortment of health care providers.
Construct a social post that includes a brief summary of the physician's experience, such as where they went to medical school and where they completed residency and fellowship. You can also mention any awards they've received, leadership roles they've held or research they've conducted.
Be sure to include a professional portrait of the new hire, and consider a more casual photo of them off the job doing something they enjoy. An image as simple as them on a hiking trail or surrounded by their family can establish a sense of personability and relatability to potential patients.
Let your website do the work
Your website can be like a virtual billboard for your health system. When individuals navigate to your website, they're quickly passing by a lot of information.
Current patients may visit your site to check out updates about your health system, browse services they're interested in exploring, or to get affirmation that they're receiving the right care in the right place.
Alternatively, new - or potential - patients are looking for general information about your facility, amenities, why they should visit your practice and, of course, why they should trust the doctors at your health system to deliver quality care.
Information on your website can take the form of a small physician snapshot with their qualifications or interests. Another option is to include a short video clip of them sharing their excitement to join the team and make a positive impact.
Update your inventory
This step goes hand in hand with a potential website feature. Your website's provider directory is not only useful for current patients, but also for potential patients searching for a new health care provider.
Even if you choose not to separately highlight your new physician or APP on your webpage, you'll want to update your provider listings to ensure they can be found and seen as an option, or better yet, the physician or APP your patients have been seeking.
Share your excitement in your patient's inboxes
Another great way to let people know you're welcoming a new physician or APP to your community is to send an email to existing or potential patients announcing your team's expansion.
This can take on a celebratory tone and act as an invitation to join you in welcoming the practitioner to your community. Even if it's a simple message with their headshot, a few details about them, their specialty and experience, it can show patients you value your new hire and give them more reason to value them, too.
Go the snail mail route
If you want to avoid sending a mass email to patients, you can take another approach. Consider sending a postcard mentioning your growing team and sharing your excitement about what this new provider can offer to their patient experience, the community and your facility's vision.
Direct mail can also feel more personal to receive, reflect positively on your culture and act as a tangible reminder for patients to schedule a checkup, maybe even with your new physician or APP.
Look for presentation opportunities
Offering your new hire opportunities to present on behalf of your health system is another way to share their expertise and give them more visibility to other organizations and fellow physicians and APPs.
This could be sharing clinical research, promoting your health system's values or culture to other organizations, or by walking through a topic related to their specialty.
Host a meet and greet
Give past and new patients a way to get to know your new physician or APP in a more intimate setting by hosting a virtual open house or meet and greet. One option is to arrange a live Q & A for your new hire online to interact with patients and share a bit about their eagerness to serve the community.
When gathering in-person is more appropriate, organizing an in-person opportunity to meet your new team member is especially valuable for past and current patients. It gives them a chance to shake their hand, establish an organic connection and get a better feel for the physician's bedside manner and what it would be like to receive their care. 
Local media outreach
You can also take the initiative to spread the word about your new hire through local media resources. You might start by sending a press release to various outlets to share your physician's or APP's arrival and providing details about their background and expertise.
Additionally, if your new hire is willing, you could make them available to weigh in on important industry issues or relevant stories, which can be effective for drawing attention to your team's growing skillset and diversity.
The more you recognize and elevate your new physicians and APPs as part of your talent acquisition strategy, the more valued they're going to feel at the start of their journey with your health system. Plus, it tells patients your organization is strong from the inside out.
Ultimately, you're not just promoting a new hire, you're sharing the warm culture of your health system, its celebration and dedication to staff, and most importantly, why you're an ever-evolving organization patients can trust.
Want more information about how you can promote your new physicians and APPs? We're here to help. Contact us at ProTeam@PracticeLink.com.