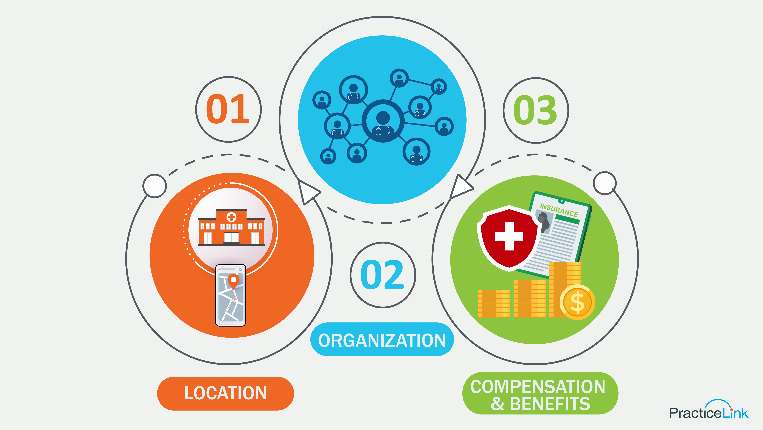 Imagine searching for your dream house.
You'd likely begin with an idea of the desired location, your budget and some must-have amenities. There are also aspects you'd be willing to compromise depending on the price, neighborhood and other factors.
Even when you tour a property that meets your requirements, it's easy to start second guessing whether it's the home for you. It's a big, life-changing decision after all! Now imagine the influence a real estate agent may have in that situation if they're humdrum and disengaged during the tour vs. actively pointing out how it fits your description of the perfect house and is excited at the prospect of you getting it.
Physician recruiters can have the same effect on physicians looking for their first or next practice. The offer and opportunity may fit what they're seeking, and a little enthusiasm at the prospect of them joining may be all they need to commit.
Here are three factors in the job search where a physician recruiter can help pique the interest of your candidates:
Location
Every community has its own charm. The key is knowing it and sharing it. If you live in an area for which you're recruiting, it can be pretty easy. Think about the popular attractions locals and visitors enjoy about the community and look for opportunities to share them with your candidates.
When it comes to site visits, you have an opportunity to do more than talk about the city. Schedule dinners or catered lunches with unique local restaurants, and plan a community tour that incorporates popular parts of the town. You could even involve the staff and have them rank their favorite local eateries, attractions and activities, which can help your candidates get to know the community - and their potential colleagues - better.
Also consider how to tout the community before you meet the candidate. Include descriptions and images in your job postings that provide a glimpse of life in the area. Think about what would help a doctor envision themselves living and practicing there.
It can be more challenging if you recruit to a location without the intimate knowledge that comes with living there. Still, a little research can help you familiarize and provide useful insights to your candidates.
City websites, along with convention and visitors bureau sites, often highlight a community's top attractions and what's on the horizon. Other sites like AreaVibes and NeighborhoodScout aggregate communities' real estate, demographics, crime, school and other information.
Organization
When promoting the organization, think about the current culture and stated mission - and the type of doctors who will help achieve it.
Also look for exciting news to share that may appeal to your candidates. Is the facility expanding its campus or installing new equipment? Has it received any recent awards? How has it helped the community? And are there any stories you can share of physicians who were hired and came in and grew their careers?
Compensation & Benefits
A candidate will likely be aware of the salary range of a given position. When discussing salary, be sure they understand the full compensation structure - for example, how base salary is complemented with additional incentives and, if appropriate, how often those incentives are met.
Also review the organization's benefits to see if there are any that may help your compensation and benefits package stand out, whether it's student loan assistance or a relocation package that sets them up for success.